Oct 15, 2015
HSC attends USSSA Fall Conference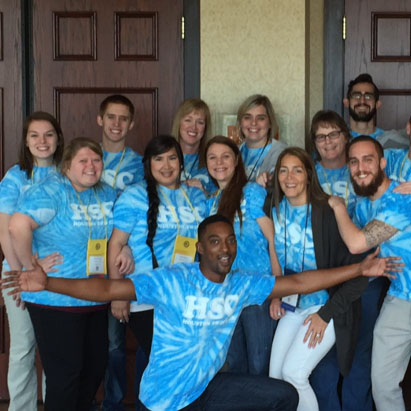 Representatives from the Houston Swim Club attended the USSSA Fall Conference this year in Denver, CO.
Select representatives from HSC, including the owners of our swim school, participated in a week long United States Swim School Association conference in Denver, Colorado. These conferences are held twice a year throughout the country, and are a great opportunity for people from all over the world to come together and exchange new ideas and information from their swim schools.

Early in the week, instructors were engaged in a specialized Infant-Toddler swim lesson training that taught new life-saving teaching methods. The class received national attention on "The Now Denver News". This class was been developed over the years to help better the instruction for young children, and HSC learned and shared tips for building effective swim lessons.
The remainder of the conference focused on sharing teaching and business tips with over 400 swim school owners and instructors from around the world. HSC also toured other swim schools in the area.

If you see one of our attendees at your local pool, be sure to give them a big congratulations and good job. Those who attended included Mr Jeremiah, Mr Grayson and Mr Charlie from Sharpstown, Ms Lisa, Ms Sandi and Ms Ashleigh from Sugar Land, Mr Greg and Ms Kristen from Cypress, Mr Hector, and Ms Heidi from Katy, Mr Andrew from Pearland, and Mr Ryan and Mr Chris from Pearland and Cypress.
Great job, team!
---
You may also like...
The Great Easter Egg Dive
Apr 11, 2017
Watch kids in our swim lessons dive for Easter eggs! Read More
Sharpstown Stingrays Registration is Open!
Apr 2, 2018
Interested in joining the summer swim team? The Sharpstown Stingrays registration is open! Read More
Be Safe this Summer
Jun 2, 2017
Summer is here! Be safe in and around the water with these essential tips. Read More