Apr 13, 2017
Sharpstown Easter Fun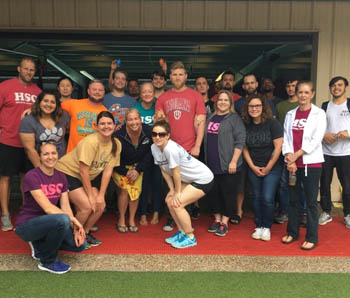 HSC Sharpstown took a break from teaching awesome swimming lessons for some pre-holiday Easter celebrations!
The team at our Houston Swim Club Sharpstown location kicked off the Easter holiday season today with some team building fun!
The staff was divided up into teams and given a list of clues to find their Easter eggs. Each team then had to hold a hula hoop (used in swim lessons to improve dives), and race around the Houston Swim Club Sharpstown facility to find their eggs before the other teams.
Sometimes it was a struggle!
The instructors, lifeguards, and office staff had a lot of fun! Of course in the end there can be only one winner, and so team yellow took the gold.
---
You may also like...
Stop Drowning Now Donations for March
Mar 30, 2017
In March, Houston Swim Club donated $305 to the Stop Drowning Now foundation. Read More
Moms learn CPR at HSC!
Oct 5, 2018
These moms took a class last weekend and are now better equipped to handle an emergency situation. Read More
Newsfix CW39: Swim safely this summer
May 14, 2016
HSC on CW39...Swim safely this summer with these helpful tips. See the full news report. Read More