Feb 1, 2017
January Safer 3 Donation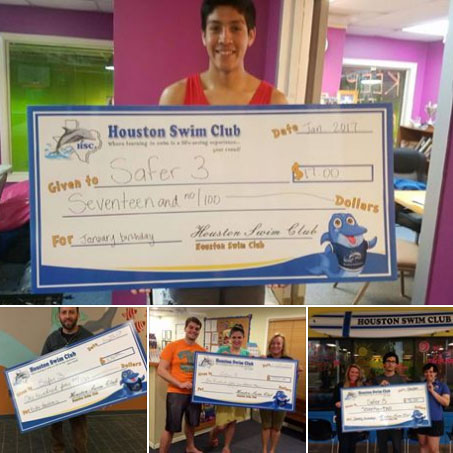 HSC donated $348 to the Safer 3 Foundation in January.
Each month, Houston Swim Club makes a donation to the Safer 3 Foundation, a group dedicated to saving lives through drowning prevention and water safety education. Over all our locations, we add up the ages of our staff's birthdays for the month and write a check! For the month of January we donated $348. They're excited (and we're excited!) to be a part of helping Safer 3 with it's vision of a world without drowning!
Check back every month to see how much we donated!
---
You may also like...
Be Safe this Summer
Jun 2, 2017
Summer is here! Be safe in and around the water with these essential tips. Read More
HSC at the Skeeter's baseball game
Apr 23, 2017
Howey was at the Sugar Land Skeeter's baseball game, making friends and hanging out with Swatson. Read More
How Ultraviolet Filtration Works!
Oct 22, 2015
HSC utilizes several water disinfection methods, including state of the art Ultraviolet systems. Learn more about how this technology works! Read More