May 14, 2019
CW39 and HSC on Water Safety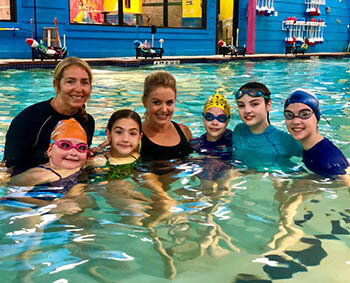 Maggie in the Morning met with HSC to learn about water safety.
Maggie from CW39 was in the pool early this morning to learn more about Water Safety Week! Our Director of HSC Sugar Land, Tammy Schoen, provided water safety tips for children and parents. Maggie also interviewed several of our amazing swimmers who offered their own take on staying safe in the pool, and why swimming (and learning to swim!) is so important to them.
You can check out some of the videos on Maggie's Facebook page, and see the full broadcast at CW39's official website.
Did you know that May is Water Safety Awareness Month? Houston Swim Club is celebrating with Water Safety Week, an entire week dedicated to instructing our students on the importance of being safe around the water, with tips on what to do in an emergency, wearing life jackets, avoiding dangers, and more!
For more information about Water Safety Week, visit https://www.houstonswimclub.com/safetyweek
Not enrolled? Get into some swim classes!
---
You may also like...
New Teacher Chat
Aug 15, 2017
Talking to your child's instructor has never been easier! Read More
January Safer 3 Donation
Feb 1, 2017
HSC donated $348 to the Safer 3 Foundation in January. Read More
The Great Easter Egg Dive
Apr 11, 2017
Watch kids in our swim lessons dive for Easter eggs! Read More