Apr 18, 2017
Special Needs Donations are Coming In!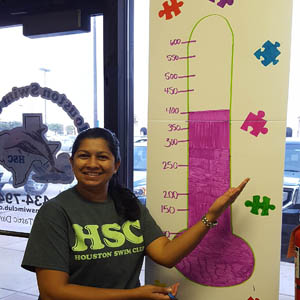 We're excited about our Special Needs Awareness donations! There's still time to make a difference in a child's life!
Houston Swim Club has been excitedly collecting donations all this month for Special Needs Awareness!
Young persons on the autism spectrum are 160 times more likely to drown than their peers, and are especially attracted to pool water. This makes swimming classes a top priority. Swimming also helps special needs children in their daily lives. The experience for them is soothing, and the contact with the water helps regulate their bodies. It's a unique feeling they can't experience in any other activity.
HSC is accepting donations that will be used for scholarships for children with special needs. These scholarships support financially disadvantaged families who otherwise could not afford swim lessons for their amazing children. We are committed to every child learning life-saving swimming skills, and we need your help!
How can you help?
Donations can be made on site, cash or charge, or charge to your account. See the front office of your location to make a donation. If you'd like to make a donation and apply it to your account online, you can also fill out our online donation form! A representative from HSC will call you to verify before applying it to your account.
Win Free Swim Lessons!
Any amount helps! Every donation will receive a special Howey coloring page that your child can sign and hang on our public donation wall. For every $15 donation, you will be entered into a drawing for a FREE MONTH of swim lessons (based on one day a week - $82 value). There will be one winner at each Houston Swim Club location.
We hope that we can make 2017 our best year yet! With your help, we can help every child learn essential life-saving skills.
---
You may also like...
Sharpstown open swim kicks off this summer
Jun 4, 2018
NEW! Sharpstown's outdoor pool is now available for OPEN SWIM! Read More
Safer 3 is now Stop Drowning Now
Mar 17, 2017
The Safer 3 Foundation has changed their name, but not their mission! Read More
HSC Attends USSSA Spring Workshop
Mar 23, 2015
HSC was proud to attend the United States Swim School Association Spring Workshop March 2-3, right here in Houston! Read More