Feb 27, 2017
HSC donates $308 to Safer 3 for February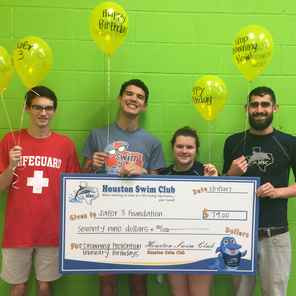 This month HSC made a donation of $308 in the name of drowning prevention to the Safer 3 Foundation!
Each month, Houston Swim Club makes a donation to the Safer 3 Foundation, a group dedicated to saving lives through drowning prevention and water safety education. Over all our locations, we add up the ages of our staff's birthdays for the month and write a check! For the month of January we donated $348. They're excited (and we're excited!) to be a part of helping Safer 3 with it's vision of a world without drowning!
Here's how much we've donated so far this year!
January
$348
---
You may also like...
Stop Drowning Now Donations for March
Mar 30, 2017
In March, Houston Swim Club donated $305 to the Stop Drowning Now foundation. Read More
Shallow Water Blackout
Oct 12, 2015
A Public Service Announcement from Bob Bowman, CEO/Head Coach of North Baltimore Aquatic Club, discusses the very serious topic of Shallow Water Blackout. Read More
A Journey into Swimming
Mar 14, 2016
"If you want to be the best, you have to do things other people aren't willing to do." -Madison. Read more of this 7 year old's amazing journey and her love for swimming. Read More