Feb 25, 2018
- The Seigle Family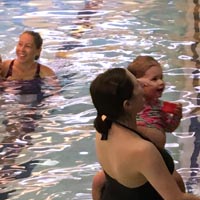 "We have been coming for nearly eight years for our daughter's lessons, first for Physical Therapy purposes, but then just because she enjoys it so much! Without fail, your staff goes the extra mile to make clients feel special. They are a great team and have made a huge impact on our daughter! Kudos to all of Team Sharpstown! "
---
You may also like...
Summer Sunscreen Tips
Jun 9, 2015
Summer is here! It's important to protect yourself from the sun while enjoying the outdoors. Read More
New Teacher Chat
Aug 15, 2017
Talking to your child's instructor has never been easier! Read More
"I saved myself!"
Mar 21, 2017
"One wheel of the tricycle went over the edge, flipping Maddie...as well as the tricycle (with her on it) into the pool." A grandmother shares a terrifying moment! Read More