Feb 23, 2018
- Mom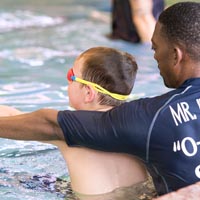 "So far we have been really pleased with HSC. This is our first year / time to take lessons from y'all. Our son completed the Catfish 2 week program (he had some swim experience already so it was mostly like review for him) and is now in the 2 week Stingray class. I'm really hoping to see his skills take off soon and start making lots of progress! The two teachers he has had so far have been really great!"
---
You may also like...
HSC at the Skeeter's baseball game
Apr 23, 2017
Howey was at the Sugar Land Skeeter's baseball game, making friends and hanging out with Swatson. Read More
Thank you for saving my life
Jun 21, 2017
I had slipped under the pool cover at a friend's house... Read More
Swim in the Howey Invitational!
Apr 11, 2018
All HSC locations come together 4/14 to compete in the ULTIMATE SWIM MEET. Read More