Jan 22, 2018
You can donate to Stop Drowning Now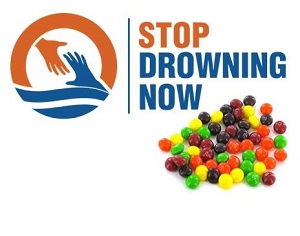 Learn how you can help the Stop Drowning Now Foundation fight drowning!
You can now donate to Stop Drowning Now!
STOP DROWNING NOW is an organization dedicated to saving lives through drowning prevention and water safety education. They have created a year-round educational campaign in order to significantly reduce the number of drowning incidents, not only in the United States, but around the world.
How can you help?
Find our Skittles machine at all of our Houston Swim Club Swim School locations. For .25 cents, you get a handful of Skittles and 100% of the proceeds go directly to Stop Drowning Now.
For more information, visit their website at http://www.stopdrowningnow.org/
---
You may also like...
Safer 3 is now Stop Drowning Now
Mar 17, 2017
The Safer 3 Foundation has changed their name, but not their mission! Read More
Underwater Babies Now Available
Apr 24, 2015
The newest release from Seth Casteel, Underwater Babies, is now available for sale in our front office. Read More
Houston Swim Club Employee Saves a Life!
Jul 12, 2018
Houston Swim Club Swim School would like to recognize one of our staff members, Lisa Barras. Her quick actions made a difference in one man's life while vacationing in Florida! Read More