Aug 1, 2016
LIVE CW39: Water Safety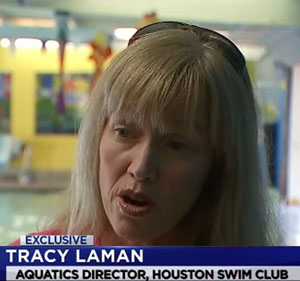 HSC Gives Water Safety Tips to CW39 Newsfix, including a demonstration on how to properly rescue someone from the water.
Maggie Flecknow of Houston CW39 Newsfix spent several hours at the Houston Swim Club to learn valuable water safety tips. During the live broadcast, HSC's Tammy Schoen explained many important lessons including teaching your child to swim, keeping your pool at home safe and secure, using life jackets when out in the water, and teaching children to "Throw Don't Go".
"It's very important that a child or an adult is not a strong swimmer that they don't jump in to save someone who is in trouble or struggling the water. It's actually much better for them to Throw, Don't Go."
See the video above as we demonstrate how to rescue someone in the water!
---
You may also like...
2 year old passes her float test
Jun 3, 2017
Watch a 2 year old at Houston Swim Club in Sugar Land pass her float test! Read More
Typhoon Texas Summer Fun
Jun 24, 2019
Come have fun with the Houston Swim Club Swim School at Houston's best water park! Read More
Their mission is to find the cure to cancer
Apr 8, 2019
HSC supports The Cure Starts Now in their 3rd annual walk. Read More