Aug 4, 2017
July Stop Drowning Now Donation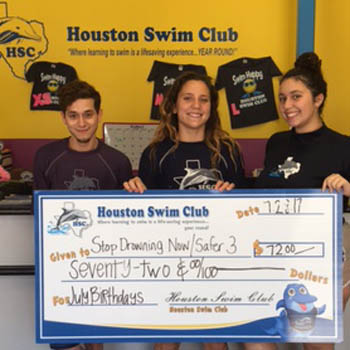 HSC donated $276 in the month of July to Stop Drowning Now!
Houston Swim Club made a donation of $276 in July to the Stop Drowning Now Foundation (www.stopdrowningnow.org), a group dedicated to saving lives through drowning prevention and water safety education.
Over all our locations, we add up the ages of our staff's birthdays for the month and write a check! HSC makes donations to the foundation each month.
So far this year HSC has donated $2,083.
We are so excited to be a part of helping Stop Drowning Now!
---
You may also like...
Water Safety Week at HSC
Apr 16, 2018
The month of May is Water Safety Awareness. Find out more about our Annual Water Safety Week activities! Read More
New Teacher Chat
Aug 15, 2017
Talking to your child's instructor has never been easier! Read More
Tracy Laman offered expert advice to parents on ABC13
Jul 12, 2017
Laman said with lessons, a baby can hold his breath from six to eight seconds. However, kids who have had no training should not be repeatedly submerged..'" Read More