May 25, 2017
- Kristin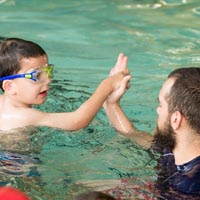 "My oldest started a HSC after lessons at both Saint Street and Pengu, and our family quickly became fans of HSC. Mr. Jordan had him swimming in ways he had never swam after the first week of classes even though he'd been in lessons for a couple of years. HSC Sharpstown (including Jordan and Ms. Hannah) helped my four year old go from terrified of the water (such that she'd make herself throw up during class) to swimming the width of the pool in only three months. Mr. Daniel is also awesome and engages my active son in ways that make him look forward to swimming lessons and have enabled him to become a much stronger swimmer. We're going to continue for lessons year round because of the tremendous progress our kids have made. Thanks!"
---
You may also like...
Sharpstown Easter Fun
Apr 13, 2017
HSC Sharpstown took a break from teaching awesome swimming lessons for some pre-holiday Easter celebrations! Read More
Spring Break FUN!
Feb 16, 2018
Join us for a full WEEK OF FUN at HSC! Read More
Houston Swim Club Employee Saves a Life!
Jul 12, 2018
Houston Swim Club Swim School would like to recognize one of our staff members, Lisa Barras. Her quick actions made a difference in one man's life while vacationing in Florida! Read More