May 25, 2017
- Victor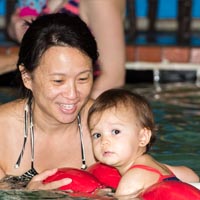 "I really liked their techniques and teaching style. Children need to know how to swim. It could literally save their life. I was lucky, I took to water like a fish. I still remember taking swimming lessons in pre-K and thinking, "Why aren't we in the big pool?" Naturally, I thought it would be easy to teach my own son one day. Well, the day came and months later, my boy was still afraid to learn. You guys changed that. Thank you very much."
---
You may also like...
Typhoon Texas Event
May 31, 2017
HSC current and former swimmers and their friends and family are invited for water park fun on June 2! Read More
Howey Tours HSC!
Feb 16, 2017
Our mascot Howey has been touring our HSC locations all week long! The friendly dolphin is meeting friends and handing out coloring pages.
New Teacher Chat
Aug 15, 2017
Talking to your child's instructor has never been easier! Read More