Apr 23, 2017
HSC at the Skeeter's baseball game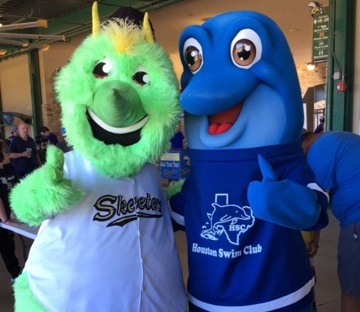 Howey was at the Sugar Land Skeeter's baseball game, making friends and hanging out with Swatson.
Hope for Three presented their 5th annual "Strike Out Autism" family fun day on April 23. Houston Swim Club joined them to help spread the message of Special Needs Awareness! The event brings together families and empowers the community. HSC staff also spread the message of water safety to all of those in attendance. Howey was on hand, dancing and having fun at the game. He made a lot of new friends, and was even invited onto the field to hang out with Swatson, the Sugar Land Skeeter's mascot!
---
You may also like...
Sharpstown open swim kicks off this summer
Jun 4, 2018
NEW! Sharpstown's outdoor pool is now available for OPEN SWIM! Read More
Join us for Open Swims
Jun 28, 2018
Join us for OPEN SWIM ramping up to Independence Day. Read More
HSC Gives Water Safety Presentation
May 23, 2016
Houston Swim Club delivers important water safety tips to a local classroom. Read More