Jan 16, 2017
HSC Student/Teacher Becomes US Navy Rescue Swimmer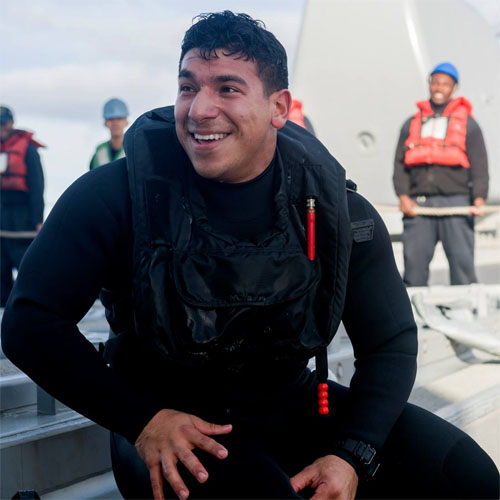 US Navy Rescue Swimmer...Where will HSC Take You?!?
We are as proud as a parent! Once a Houston Swim Club student, next a Houston Swim Club Instructor and now... we couldn't be more proud of Mr. Moe becoming a United States Navy Rescue Swimmer!
From the USS Lake Champlain Facebook page: "170109-N-FT178-064 PACIFIC OCEAN (Jan. 9, 2017) Damage Controlman 3rd Class Mounier Zahra, a search and rescue (SAR) swimmer aboard Ticonderoga-class guided-missile cruiser USS Lake Champlain (CG 57), rests after a man overboard drill. Lake Champlain is part of the Carl Vinson Strike Group who will report to U.S. 3rd Fleet, headquartered in San Diego, while deployed to the Western Pacific as part of the U.S. Pacific Fleet-led initiative to extend the command and control functions of 3rd Fleet into the region. (U.S. Navy photo by Mass Communication Specialist 2nd Class Nathan K. Serpico/Released)"
---
You may also like...
You can donate to Stop Drowning Now
Jan 22, 2018
Learn how you can help the Stop Drowning Now Foundation fight drowning! Read More
HSC Student/Teacher Becomes US Navy Rescue Swimmer
Jan 16, 2017
US Navy Rescue Swimmer...Where will HSC Take You?!? Read More
Underwater Babies Now Available
Apr 24, 2015
The newest release from Seth Casteel, Underwater Babies, is now available for sale in our front office. Read More