Mar 14, 2016
A Journey into Swimming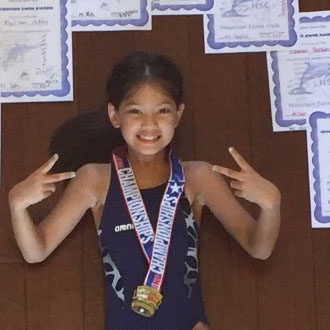 "If you want to be the best, you have to do things other people aren't willing to do." -Madison.
Read more of this 7 year old's amazing journey and her love for swimming.
"Event 9, Heat 1"
"Swimmers, take your mark"
A loud beep and eight swimmers dive into the pool.

One weekend a month swimmers from various year-round swim teams descend on assigned locations and compete in various swim events. During these competitions or meets, as they are called, one can almost always find little Madison. Madison will swim 6 individual events over the course of two afternoons. When she is not swimming or getting ready to swim she can be found hanging out with her teammates.


How did all this get started? In the fall of 2011 when Madison was 3 years and 4 months she began taking swim lessons at HSC Pearland. For the first 3 lessons she could be heard crying, but through her instructor's patience and nurturing attitude Madison soon stopped crying and before long she took to swimming like a fish. Over the course of the next 3 years Madison was able to progress through her levels quickly due to the dedication of her instructors and the willingness of the administration to work on pairing her with appropriate instructors who nurtured her natural love and affinity for the sport. Three years after swimming at HSC, equipped with a solid foundation, Madison was ready to join a year round swim team.
"If you want to be the best, you have to do things other people aren't willing to do."

Fast forward 1½ years later, Madison has just finished her 14th USA Swim meet and is currently gearing up for her 2nd long course season. Being on a year-round swim team has been an amazing experience. Going to meets has taught Madison sportsmanship and the nature of competition and since she practices 4 times a week, her team is her second family. Belonging to a year-round swim team came the amazing opportunity for Madison to be coached by Olympian Camille Adams. Swim teams are a great place for camaraderie and a place to learn the value of hard work. Madison will be the first to tell you that yes, it is hard work, but it is also worth it when the results are posted!
---
You may also like...
Gift Certificates Available
Dec 20, 2017
Looking for a last minute Christmas present? Read More
Proud Mom and her 3 year old
Sep 12, 2017
I was one very proud mama...No one could believe that he was only three. Read More
Be Safe this Summer
Jun 2, 2017
Summer is here! Be safe in and around the water with these essential tips. Read More