Jul 26, 2019
We teach water safety!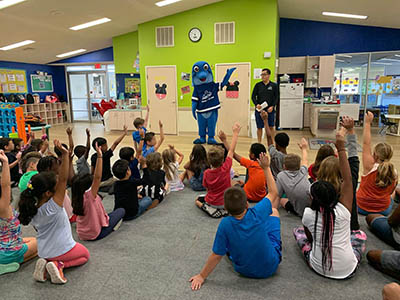 Mr Joe of Sugar Land and our very own Howey discussed water safety with local students.
Houston Swim Club sat down with a group of students at their school this week to discuss the importance of water safety. Mr Joe of our Sugar Land location had an amazing opportunity to help children learn more about how to be safe in the water.
We know how important it is to spread the message. From 2005-2014, an average of over 3,500 non-boat related drownings occurred in the US every single year. One in five of those victims were children under the age of 14. The number of children who are hospitalized for drowning-related injuries is 5 times that amount. We take drowning prevention seriously!
The children at the discussion were super engaged and had plenty of great questions and comments. As most of our swim families already know, we will gladly "hop on our soapbox" any day to spread the word about this very important issue.
This is why we do what we do! #theHSCdifference
If you are interested in having us come and speak with your group, please contact one of our locations! Need swim lessons? Sign up and enroll in classes today!
---
You may also like...
Spring Break FUN!
Feb 16, 2018
Join us for a full WEEK OF FUN at HSC! Read More
2016 Christmas Toy Drive
Dec 23, 2016
The 2016 Christmas Toy/Food Drive was a huge success. Families all over Houston donated an impressive pile of food and toys for needy families.
Summer Sunscreen Tips
Jun 9, 2015
Summer is here! It's important to protect yourself from the sun while enjoying the outdoors. Read More