Apr 3, 2019
That time a puppy swam with us...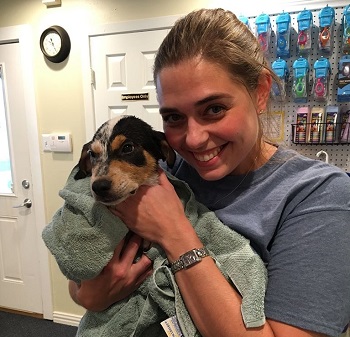 If you follow us on Facebook or Instagram, you probably recognize this photo.
You might ask why we have a photo of a cute, cuddly, wet dog in our front office? You'll recognize this photo if you follow us on social media. Although we used the photo as an April Fool's joke, there is a real story behind the image.
In 2016, this friendly pup followed one of our families to swim class at our Sharpstown location. He was really ready to swim! Before we knew it, he had jumped into the water! You can imagine how excited our students were...although his "swim class" was short lived; our staff quickly brought him out of the water and dried him off in the front office.
The story has a happy ending. We posted flyers around the neighborhood and found the owners!
And that's the story of the wet puppy photo.
---
You may also like...
Mother's Day at HSC
May 7, 2017
We're celebrating Mother's Day all week long! Read More
Judah's Legacy
Jul 3, 2018
The Judah Brown Project helps spread awareness of water safety and the reality of drownings in Texas. Read More
Life-long HSC swimmer is super proud
Jun 19, 2017
We are excited that life-long HSC swimmer Jordan made Championship Times in her swim team! Her mother wrote us a letter sharing her story. Read More