Mar 22, 2019
High Fives and Hugs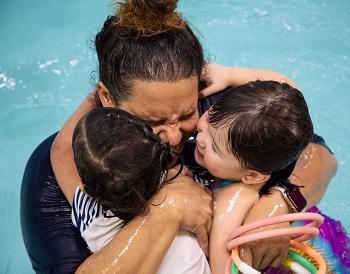 At the end of every swim lesson, we always give high fives and hugs...
Learning to swim should be fun. It should be encouraging. It should be positive. That's why we teach swim lessons in a loving, nurturing environment.
High fives & hugs are the last (and perhaps the most important) part of each 30-minute lesson. Whether our students have had a breakthrough lesson or have struggled a bit to pay attention after a long day, we always make sure to end on a positive note.
It's so important to us that they leave the pool feeling happy, encouraged and loved.
Sometimes... WE need those hugs more than they do!
We love your kids.
We teach them lifesaving skills and so much more.
Need 2 weeks of hugs (and swim lessons)? Find a class to join - our next 2-week Everyday session starts this Monday!
---
You may also like...
Katy Mom's Network
Feb 11, 2019
HSC has teamed up with Katy Mom's Network! Read their latest mom blog. Read More
Pumpkin Decorating Contest
Nov 2, 2017
Results are in, here are the winners! Read More
Sharpstown Stingray Registration Now Open
Apr 15, 2019
Are you ready to swim with HSC's summer swim team? Read More