Feb 12, 2019
Swimmers love making Valentines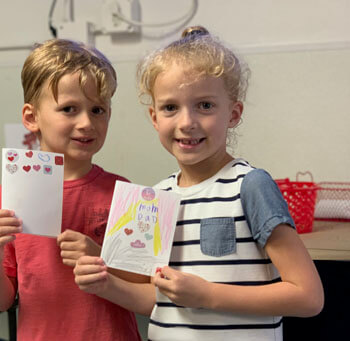 Our students have been making Valentine's Day cards all week long!
Feb 7 - 14, swimmers at HSC have been hard at work before their swim lesson, making V-Day cards! In the front office (or observation room at some locations) we have a table set up with paper, colors, and/or stickers and everything they need to make a card for mom, dad, grandparents, swim instructors, or ANYONE!
Come by and make a special card for a special someone. If you missed it this year, don't worry, we have card making stations every year.
PS: Swim instructors love getting valentines from their students!
---
You may also like...
Underwater Babies Now Available
Apr 24, 2015
The newest release from Seth Casteel, Underwater Babies, is now available for sale in our front office. Read More
January Safer 3 Donation
Feb 1, 2017
HSC donated $348 to the Safer 3 Foundation in January. Read More
Typhoon Texas Event
May 31, 2017
HSC current and former swimmers and their friends and family are invited for water park fun on June 2! Read More