Newbie Primer! Skills and Levels at HSC
Mar 9, 2020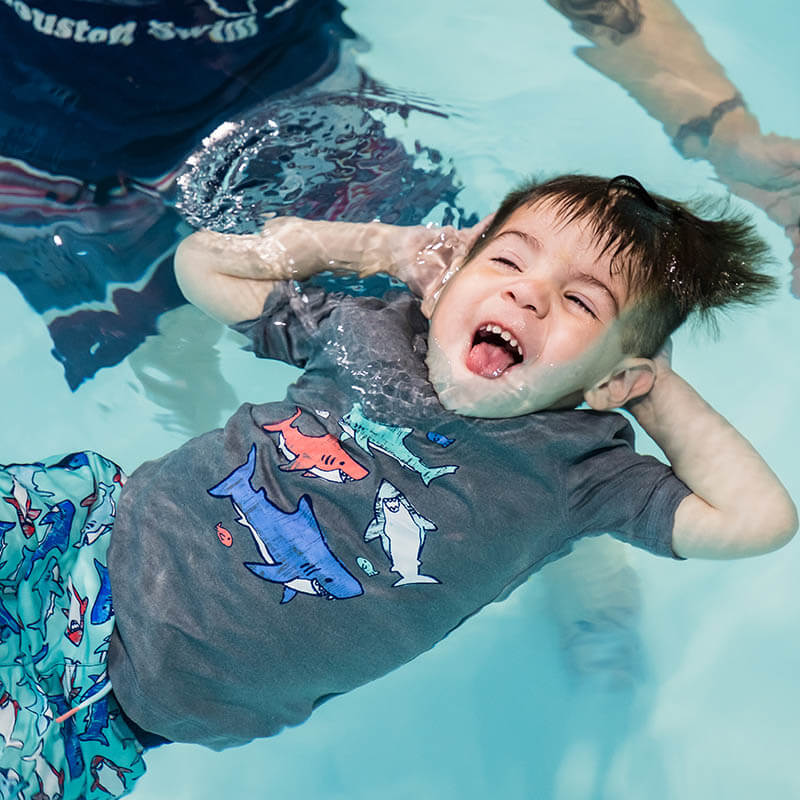 ---
Topic: Swim Lessons
Everyday sessions are a great way to build a foundation for swimmers who are new to HSC. Even if they have taken lessons at other places, it's important to know that not all swim schools are the same. This 2-week session will help build the curriculum for them and give them an idea of how we teach students. This also helps to get them comfortable in our pool.
Guppy and Catfish are our beginner levels, which are only offered in the everyday session format. The first couple of days are spent developing instructor/student relationships, building trust, and evaluating how comfortable they are in the water. After that, we introduce new skills gradually and begin challenging them a bit more in order to achieve maximum progress by the end of the session. There is a lot of progress made in 10 lessons!
First, we work on breath control.
Second, body positioning.
Third, movement (arms, kicks, turning onto their back).
Students under 5 years of age work primarily on back floating and learning how to be safeR in the water. The reason we work on floating with little ones at this age is because their brains know what to do, but their bodies can't keep up. So, we have them rest and float on their back until someone comes to get them or they can get to the edge of the pool. We teach them to reach up and grab the edge, then pull themselves out or up onto a step or ledge that helps them exit the pool.
I (Damaris) currently have my daughter signed up in swim lessons at HSC Katy. She is a little bit over 3 and she just passed her Float Test in the Goldfish level with Ms. Lizzie! This is a huge relief knowing there are many bodies of water around the Houston area. I now feel confident and secure knowing that my little one will be okay if something were to happen. I could not be more proud of her!
Students over 5 years of age will start to learn a basic beginner freestyle stroke and how to be comfortable and kick on their backs. The reason we work on form and technique for students who are 5 years of age and up is their brains know what to do and they have started developing muscle strength and endurance. So, we start working on form and technique to develop a proper stroke with breath control. Our goal is that they are able to swim to get to the edge and pull themselves out.
After an Everyday session, it's up to the parent to decide how often they want to swim. Of course, the more children swim, the faster they progress. You will see progress even if the child swims once a week, however, swimming multiple days a week will ensure the child progresses faster.
Once a student has progressed through one of our beginner levels, whether Guppy to Goldfish or Catfish to Stingray, then they will begin working on form, style and technique. As they promote from one intermediate level to the next, they will learn new skills in each new level while also continuing to maintain skills already achieved. You will notice that Goldfish through Swordfish students are swimming the width of pool, and Tigershark/Marlin through our Advanced Stroke levels are swimming the length.
Advanced levels are about fine tuning the stroke, building endurance and gaining speed while maintaining a good form. This is so they can be ready for swim team.
Every child is different and they all learn at their own pace and in their own way. So even if you see other children progressing and moving rapidly in the class, don't be discouraged because your child will move forward at their own pace. The instructor will work with them exactly where they are.
The curriculum is the same for each level so even if they have a different instructor each day it should be seamless. Teachers will teach to the child's ability while still teaching the level they are in. If you are ready to take a look at our swim lessons, Let's Register Now to enroll your child at Houston Swim Club.
Written by Damaris Barrow, Office Shift Supervisor, and Collin Espindola, Instructor Supervisor, Houston Swim Club Katy
---