My WHY
Feb 3, 2020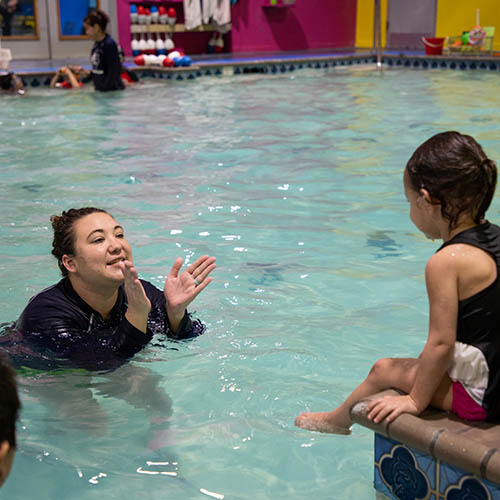 ---
Topic: Our Stories
When I first interviewed with Tammy (the Site Director at HSC Sugar Land) back in 2006, I knew that this was the place I wanted to work. The atmosphere was fun, and I got to work at a pool, which was super exciting since I had spent my entire childhood swimming each summer on swim team!
My journey with Houston Swim Club Swim School began as a Lifeguard when I was just a senior in high school. Once I graduated, I trained to be a Swim Instructor and I absolutely loved it! However, at that time, I wasn't very passionate about my job. I worked simply because I had bills to pay.
I taught first time students in our Everyday two-week sessions as well as our Monthly students who came just once or twice per week. I taught all day long – from open to close. In 2011, I became pregnant with my son, Chase, and decided to take a break from working in order to focus on college and maintaining a healthy pregnancy.
After a small break, and enjoying my time as a new mom, I decided to return to HSC. I told Tammy that I wanted to try working in the office as well, and as of now, I am the Office Supervisor, but I STILL TEACH!
You may ask, "WHY?"
Well, simply put, it is because I believe in the program!
I am passionate about working with children, and more importantly, I know the importance of water safety first-hand. With every phone call that comes in, another life could be saved!
I was working in the office one Saturday morning while my parents were watching my son when he was 3 years old. They decided they wanted to go on a little trip with a close family friend that weekend. I remember my mom telling me what happened (after she returned home with Chase) like it was yesterday…
While on the trip, Chase (now 8) fell into a pool. A pool that was fenced in! A pool that was being supervised by more than 3 adults! For a split second, their focus wasn't on Chase. Thankfully, he had been in lessons since he was just 3 months old, and knew exactly what to do when he fell in. My son is alive today because he had formal swim lessons where he learned how to react calmly in this scary situation. And, guess what?! He has followed in my footsteps and is now on swim team each summer too!
In the summer of 2018, my stepdaughter (age 5 then) had not been taught how to swim. We were at the pool one day and she decided she wanted to follow Chase's lead and jump into the deep end. She previously had a float on around her waist, but we had taken a break to eat lunch, so she had taken it off. Sure enough, I heard a splash. My instinct kicked in quickly and I instantly turned, ran and jumped into the pool to save her. Thankfully, I was able to get to her quickly to make sure she was okay. Not even two weeks later, she was enrolled in lessons at HSC and began learning how to be safeR in and around the water!
When people ask me what I do for a living and why I do it, I share those stories. I also frequently share the story of a student I taught who fell into a pool while riding her tricycle around the pool, and because of our infamous Float Test, she knew what to do! She floated to the side fully clothed (and with a bicycle helmet on), climbed out, and with tears in her eyes stated, "I saved myself!"
I get chills every single time a child passes their Float Test! I smile each time I see a child swimming independently! And, when I am working in the office and I am able to find the perfect schedule for a busy parent of three, I can't help but feel like I may be saving another family from a tragedy!
I am proud of what I do! Whether I'm in the pool teaching lifesaving skills or answering the next incoming phone call and getting someone signed up to start lessons with us, I know that I have made an impact on a child's life.
THAT is my "WHY!"
"Choose a job you love, and you will never have to work a day in your life." – Confucius
Written by Lindsey King, Office Supervisor & Instructor, Houston Swim Club Sugar Land
---