Houston Swim Club…It's More Than Just a Job to Me
Dec 9, 2019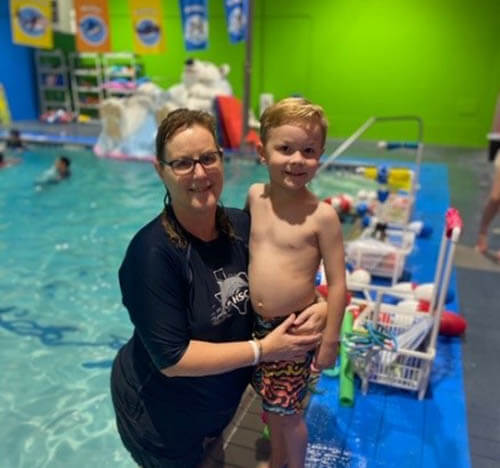 ---
Topic: Houston Swim Club
My first experience with Houston Swim Club was as a parent back in 2003, but the funny thing is, I wasn't even looking for a swim school. In fact, I didn't even know they existed. I just assumed that most kids learned to swim at the YMCA or were taught by their parents at their neighborhood pools. It never occurred to me to enroll my baby or toddler into formal swim lessons.
Enrolling my children at HSC happened by pure coincidence.
After my third child was born, I decided to quit my full-time job of 16 years as an Executive Secretary for a nationwide collection agency. It turns out, that at the same time I transitioned to be a stay-at-home mom with my 3-year-old daughter and 4-month-old son, my neighbor was looking for someone to take care of her 8-month-old son during the day while she went to work.
After a couple of months of caring for him, she asked if I would be willing to take him to his weekly swim class at HSC, where she worked as an instructor. I didn't need much convincing, but she even offered to enroll my own two children into swim classes as well. Of course, my answer was, 'yes!'
Before long, I learned that, not only was she an instructor at HSC, she was also the owner's daughter. So began my relationship with Houston Swim Club…
I remember the day I took my two kids and her son to lessons for the first time. I was totally impressed! The boys and I were in a Parent/Child class and my 3-year-old daughter was in a group class with three other children around her same age. There were multiple instructors teaching different skills to different age groups – all at the same time and all in the same pool. I was completely fascinated at the organization of it all. It didn't take me long to realize what an amazing business this was!
Before my son turned a year old, I started going a little stir crazy at home. I missed going to work each day and interacting with other adults and having adult conversation. It was time for me to find a part-time job. There was something about the swim school that intrigued me, so I decided to ask my neighbor if there were any office positions available.
Before I knew it, I was in a face-to-face interview with the owner of the business, Bonnie Howe. I remember that day clearly. The interview was casual. I was dressed in shorts and sat in her office with both boys in my lap while we talked. I left that meeting with a good feeling and, by the next week, I was hired to work at the Sugar Land location as a part-time office employee.
I had three evening shifts per week, which worked perfectly with my stay-at-home mom schedule. Not only did I get the opportunity to talk and interact with adults again, but I was also joining a company with a great mission. A company that spent every day teaching lifesaving swim skills to children. I was so excited to get started.
I think I spent my entire first shift just watching the lessons through the office window. I got to see firsthand how instructors began with a child who was scared to death of putting their face in the water, and lovingly helped them to overcome their fears. I was totally hooked.
Meanwhile, my own children continued in their lessons and developed a love and respect for the water. They progressed well enough to join the summer swim team and enjoyed their time at HSC as much as I did. I was only planning to work part-time to keep myself busy while my kids were in school, but my plan didn't go as planned.
The days turned to weeks, the weeks to months, and the months to years. What started out as a part-time job, has quickly turned into 16 years spent with a team of people who are like my second family.
HSC is now my home away from home.
It wasn't until my family suffered an unexpected loss a few years ago that I realized just how much I needed my HSC family. Due to the tragedy that our family faced, I made a difficult decision regarding my youngest child – my son who began the HSC journey with me all those years ago. I made the choice to move him up north to live with my brother and his family. I didn't want him to grow up as a latch key kid while I was at work all day.
As you can imagine, this decision was really hard on me. The mom guilt set in quickly. I missed him dearly. I was sad and depressed. I continued to work and functioned on auto pilot for quite a while, but eventually found myself not wanting to go to work anymore. I felt I had no purpose.
However, the longer I worked for HSC, the closer I grew to the children. I felt the need to be around them, rather than just working with other adults. I remember being at work one day and I could hear children crying in the pool. It was coming from our newest beginner level students – our Guppy swimmers.
I realized then what was missing in my life.
Over the years, I had watched hundreds of lessons and had seen numerous children successfully pass their Float Tests. I loved watching my instructor teammates work with those kiddos in the pool and I knew I wanted to be part of that, too.
I wanted to make a difference. I knew I could make a difference.
I felt my time at work could be better spent helping these kids who needed a mom's touch during their swim lessons. I truly believed that it was the longing I felt for my own child that fueled my desire to help these scared, frightened children in the pool. Rather than just watching from the sidelines in the office, I wanted to help in the water, too. I wanted to help calm them and reassure them that there was nothing to be afraid of. I knew that, as a mom, the love and patience I had would work to these children's advantage. I could help them to overcome their fears. I could teach them lifesaving skills.
So, I decided to learn to teach. I trained like all the other new teachers did. I spent many hours observing and learning from senior instructors. I completed the training requirements and, when the time came, was eager to take on my own classes.
I can still remember the first Guppy class I taught. They were a group of fussy, frightened, two-and-a-half-year-old beginners. I too was extremely nervous and was scared I would forget the order of the curriculum, but as soon as those kiddos walked onto the pool deck, I knew I was ready.
You see, most of the Guppy swimmers were just as scared as I was. I knew their parents were depending on me to comfort their children. I knew these swimmers were depending on me to love on them and to keep them safe in the pool. We all worked through our fears together. Making it through that first Guppy lesson, and through the remainder of the 2-week session, gave me the biggest sense of accomplishment.
They taught me just as much as I taught them. I had found my purpose.
One of the students I had in that first Guppy class is still enrolled at HSC to this day. When I had him, he was only a toddler, but he was always so excited to see me. His hugs made me feel needed. He was always the highlight of my day for two weeks straight.
After he completed his Guppy session, he moved into my Goldfish class and continued with me for a year. I can still remember how he did his Float Test in his Batman costume because he insisted he couldn't get his regular clothes wet.
Many years and many lessons later, he is now swimming in our T-Shirt level class and is working hard on his breaststroke and butterfly technique. I am so proud of him and the progress he's made in the pool. To this very day, he swims over to me during each of his weekly lessons and gives me a BIG hug. His hugs still make me feel needed.
Words cannot express how much this child, and countless others, have helped me heal over the years. What started out as a void that I needed to fill, has turned into a passion for teaching children lifesaving swim skills that will be with them forever. Even after all these years, watching a child pass their Float Test or swim across the pool independently never gets old. It always fills me with a sense of accomplishment, even if it's not my own student.
I love being part of this company. I love the reward of my daily work. I love making a difference.
HSC Sugar Land has become my home away from home. And, while I never meant for this to become a career, I am so grateful that it has.
Houston Swim Club... it's more than just a job to me.
Written by Lisa Barras, Site Director of Houston Swim Club Sugar Land
---