Why baby swim?
Nov 22, 2019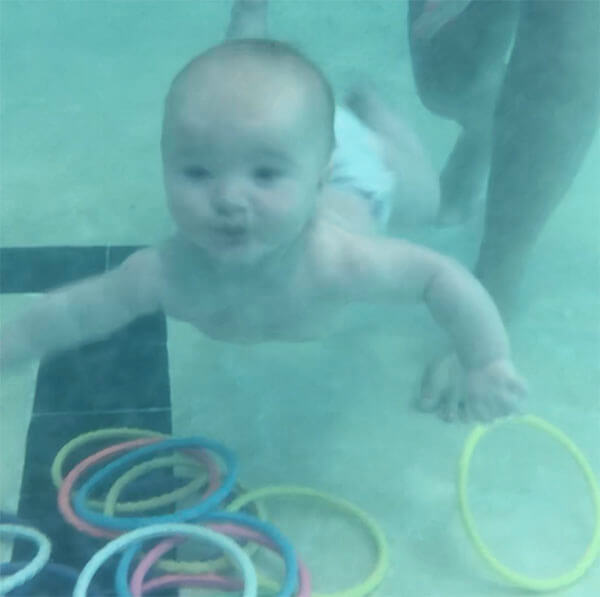 ---
Why baby swim? Taylor Jackson…that's why! Who's Taylor Jackson you ask? Well it starts back about 20 years ago when I was a young, well younger teacher. I had this precious 3 year old little girl in my Guppy class. She was so sweet and so cute; that is until she got in the pool. Then she turned into something out of a horror film. She screamed and cried for pretty much the whole 10 days.
Now, what does that have to do with why babies should swim? I will tell you! I ran into Taylor the other day when she brought her 6 month old to swim class. Of course I instantly felt really old, but super proud and excited at the same time. We laughed about her days in swim class. She said the reason she started her little one so early was to prevent another teacher from having to endure the nightmare she had been in swimming! LOL.
Sara is another reason why baby swimming is a good idea. Sara took lessons from our swim school many years ago as well. She started at 6 months old, and her mother is so glad she did!
It was a beautiful day in San Antonio, Texas as their family was walking by the enchanting San Antonio River Walk. Yep, you can probably finish my story…Sara, fully dressed and only 2 ½ years old, fell into the river.
With the current flow and river barriers, it took almost a quarter mile to catch up to the curious young girl. They found her floating on her back "Just like they taught me in swim class, mommy!"
Why baby swim? Simply…to save their life!
But for many other reasons as well. Baby swimming has many benefits. The American Academy of Pediatrics will tell you these same reasons. What do babies do first? Do they crawl, walk, or swim? Well, they swim first, of course!
How so, you ask? They have been surrounded by water in the womb for 9 months, holding their breath and swimming around. Swim lessons help encourage a lot of those same movements. Therefore, the earlier you start them in swim lessons, the better it is for their natural development.
Babies who swim feel secure enough to explore movements they would not otherwise try or be able to perform on land. Swimming encourages arm and leg movements, therefore strengthening their muscles through muscle memory. This ultimately helps develop earlier movements such as rolling over, crawling and walking. Baby swimming aids in the physical development as water is a natural environment for babies.
Swimming can also be used to develop their brains. They learn numbers, counting, colors, and so much more. It is a proven fact that swimmers are smarter!
Baby swimming also helps create a bond between the parent and the child. It allows time for you to learn and grow with your child while teaching them a lifesaving skill. In this busy world, we rarely slow down to breathe much less to spend a lot of quality time with our children. Swim lessons is a fun way to gain some of that quality time…again, while learning lifesaving skills.
And then there is social development. In swim class similar to other activities, children learn about important social skills like playing well with others, sharing, and waiting their turn. Being in group classes can also help ease anxieties that can occur in new settings, learning, and development. Positive peer pressure is an amazingly useful learning tool.
Learning to swim is a lifesaving skill that can be used for your entire life. As we age, sometimes movements can once again be restricted or hard to do. Swimming or simply floating or walking in the water is an activity one can do from birth to 95 years old!
For more information, visit aap.org for information from the American Academy of Pediatrics or the Griffith University Study on Swimmers are Smarter.
Written by Kara Baker, Pool Manager of Houston Swim Club Sugar Land
---