The Grass Isn't Always Greener
Aug 12, 2019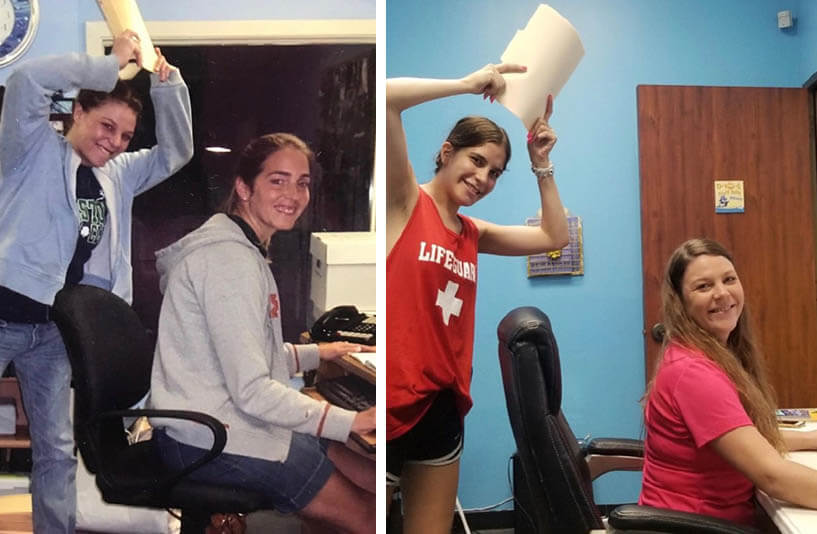 ---
Topic: Houston Swim Club
In 2002, when I was just 16 years old, I decided to join the Co-op program at my high school, which required us to find (and keep) a job for the school year. A friend in the class let me know that Houston Swim Club in Sugar Land was hiring, so I went in for an interview.
I arrived a few minutes early, nervous as can be, and met with the Director, Tammy Schoen. She was super friendly, and right off the bat I could tell HSC was going to be a good fit for me. I began working in the office as a Customer Service Representative, but could not wait to graduate high school so I could train to become an Instructor and start teaching lessons.
I made the decision early in my junior year to graduate a year early. With lots of hard work, I successfully achieved that goal! Soon after I walked across that stage, I was ready to get in the water to begin teaching children lifesaving skills… the same skills we teach to this very day!
To say I enjoyed being an instructor is an understatement. I loved having a job that was both fun and rewarding! In addition to teaching at the Sugar Land location, I also became an Everyday teacher and worked at the Sharpstown location in the evenings. That's how much I loved doing it.
Later, as my friends were graduating college, I couldn't help but be intrigued by their stories about their "fancy jobs" - dressing up in nice suits, working in an office from 9-5, and making "tons of money". It made me think: "Is the grass greener on the other side?"
I decided that if I didn't try to do something different, I may never know what it would be like to work anywhere else. I was afraid I'd regret not taking that step. So, I applied at a bank and was hired. In 2007, I put in my resignation notice to HSC.
Fearing what Tammy would think of me, and how upset she would be, I placed the letter on her desk and left. Later that afternoon she called me in and with tears in her eyes, she gave me a big hug. The news made her sad, but she said she would support any decision I made. In my final days there, my co-workers were also very supportive of my decision and even gave me a little going away party. They helped to make my tough decision much easier to work through.
I worked at that bank for about a year and a half. However, during that time, I constantly felt like something was missing. I didn't feel as happy and fulfilled in my work like I did when I was at HSC. I knew I needed to make another change… the last change!
I called Tammy and told her I wanted to come back. I missed the happy smiling faces of all the students, the daily success stories we would hear from their parents and the overall family friendly work environment. Tammy informed me that Dan, her husband, was opening a new location in Pearland and asked if I was interested in working there.
The opportunity to be part of a newly built location was really exciting to me. It didn't take long for me to realize that it was where I was meant to be. So, I gladly accepted the offer and started at the Pearland location a few weeks before their grand opening in 2009. After years of hard work and dedication I was promoted to Office Shift Supervisor!
Fast forward to 2012. HSC was preparing to open its fifth location in Cypress. Dan approached me and asked if I would be interested in helping with the start up of another new location, but this time while holding the position of Office Manager. Eeeek! I knew this new opportunity in my journey meant that I had successfully proven my dedication to HSC.
I was grateful that they trusted in me enough to take on this new challenge. It reinforced what I already knew…that HSC is right where I belong!
It's now 2019 and I am back at the Pearland location working full time as the Site Director. I have worked at four of the five HSC locations and I've learned so much along the way! There have been many ups and downs over the years, but the one thing that has never changed is my passion for helping others.
Whether it's an upset student who is afraid to go into their first swim lesson, a nervous parent who doesn't know what to expect on their child's first day of class, or an employee who needs some guidance. I love being able to help them through whatever they're facing.
When I see that upset student go into class with a smile on their face, I know I've made a difference. When that nervous parent tells me what a great experience they've had at our facility, I know I've made a difference. When a parent sends in their success story about their child falling into a pool and using the lifesaving skills we taught them, I know I've made a difference. When an employee is having a hard day and I can put a smile on their face by simply giving them a hug, I know I've made a difference.
Sometimes the simplest things can make a big difference.
I never knew 17 years ago that Houston Swim Club would be my forever home, but I'm thankful it is! I could not see myself working anywhere else, doing anything else. I'm right where I want to be! I have the best home away from home, the best work family, and the most rewarding job that anyone could ask for!
I am beyond thankful for the opportunities that HSC has provided me. And, I am most thankful for the reward of a job where I am able to help others, every minute of every day!
Written by Kristen Walger, Site Director of Houston Swim Club Pearland
---