CPR Saves Lives
Aug 5, 2019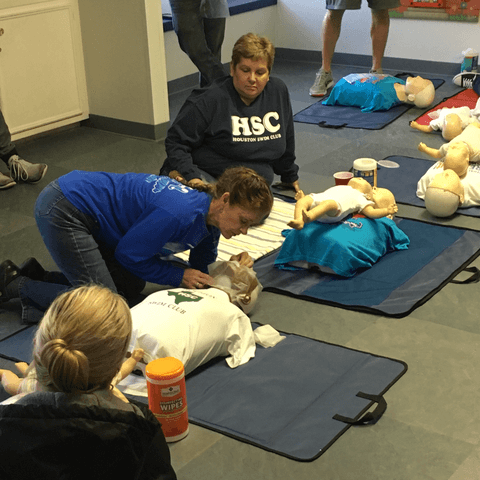 ---
Topic: Water Safety
At Houston Swim Club, water safety and drowning prevention are core elements of our mission. Our commitment to educating our students, parents and members of our community is enhanced by our partnership with various organizations who share the same passion.
Stop Drowning Now is "an educational foundation whose goal is to bring about a reduction in the number of drowning events through the adoption of the Safer 3 Program by swim schools and swim instructors worldwide." We are proud to say we've been SDN partners for over 10 years! (Additional Resource: www.stopdrowningnow.org)
Throughout the year, we emphasize the Safer 3 message in our swim schools. This program is a comprehensive initiative to dramatically reduce drowning incidents, and consists of 3 key elements for safety. Over time, and with more public awareness, we believe this program will lower drowning deaths.
The components of the Safer 3 message are:
1) Safer Water – means identifying where risks are with any body of water (bath tub, pools, spas, lakes, rivers or oceans) and reducing those risks. For example, having fences and or nets on any home pool.
2) Safer Kids – means constant adult supervision and bringing your children to swim lessons.
3) Safer Response – means understanding emergency response techniques and having action plans in place. We teach the children "throw don't go", and how to properly use life jackets. This component is also about learning cardiopulmonary resuscitation (CPR), as well as always having a phone nearby to call 911.
All 3 are important, but we'd like to focus on CPR for a moment. Since drowning is the leading cause of death in children ages 1-4, every parent needs to know CPR.
Do you know CPR?
If you don't, have you ever thought about taking a CPR class and put it off? You shouldn't. You never know when an unexpected accident will happen.
We all know children under the age of 5 are curious and can unknowingly endanger themselves (water-related accidents, poisoning, suffocation, health problems, etc.) Should your child become unresponsive due to excess curiosity, you will feel confident knowing that your CPR training has prepared you for any dire situation.
What is holding you back? Are you apprehensive that you won't know what to do? Please don't put it off.
At HSC, we can help you by arranging a class for your group, as we have previously done for many mom's groups, church groups, and friends. Our classes are taught in a laid back, friendly setting. We allow time for Q&A and participants are not pressured to rush through the skills. The class is filled with lots of hands on practice and personalized instruction.
Did you know that all HSC employees are required to take CPR and renew their certification annually? We know that CPR works because some of our staff members have used it and shared their success stories with us!
One of our Pearland teachers called to let us know that a parent attending a meeting with her passed out and became unresponsive. She was able to rely on her training and knew exactly what to do until the paramedics arrived. Another employee from our Katy location successfully responded to an accident. These both happened outside of work hours and prove how critical it is to get trained.
Being prepared alleviates nervousness and makes you confident that you can help in an emergency situation. Knowing what to do empowers you to act with confidence.
If you're apprehensive, think about this fact: brain damage starts just 4 minutes after breathing stops.
Paramedics can't get there that fast.
A small investment of your time in a CPR class will have a big return in case of an emergency.
You will be prepared. You will be able to make a difference. You might just save a life.
For more information on scheduling a CPR class, please e-mail: sharpstown@houstonswimclub.com
Written by Eilene Glass – Houston Swim Club CPR Instructor
---