The Fusion of WORK and PLAY!
Jul 28, 2019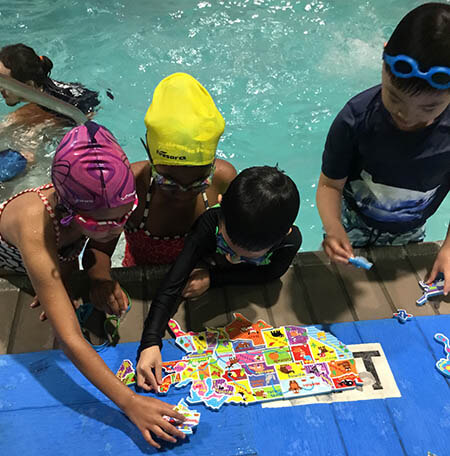 ---
Some parents may think playtime is a waste of time, asking, ''When will the children learn to swim?" or "I am not paying for my child to play!" In fact, "playtime" is imperative in reinforcing learning for children. Incorporating playful ways to teach a skill enhances learning through sensory play that encourages children to use one or more of the senses, stimulating sight, sound, smell, touch, taste, balance and movement.
Children rely on sensory input to learn about their environment. Sensory play is readily available to create during lessons. What are some sensory play activities you can do this summer in the pool? One of my favorites for stronger swimmers is to have them close their eyes and listen while you throw coins into the water. Then they can try to find them. This is a great way to practice breath control, endurance, and buoyancy in the water. Especially if you have them practice big arms to go get them!
Play, by its very nature, allows children to use their creativity while developing imagination, dexterity and physical, cognitive, and emotional strength. Play is also important to healthy brain development. Through play children, at a very early age, engage and interact in the world around them. Play allows children to create and explore a world they can master, conquering their fears while practicing adult roles, sometimes in conjunction with other children or adult caregivers.
As they master their world, play helps children develop new competencies that lead to enhanced confidence and the resilience they need to face future challenges. If your swimmer is afraid of deeper water, use that as an opportunity to give piggy back rides through the deep end. Another activity you can use to increase their confidence in the deep end can be "spider-fingers". Have them hold on to the wall. Then let go and go straight down the wall and use your "spider-fingers" to climb back up to the top.
Undirected play allows children to learn how to work in groups, to share, to negotiate, to resolve conflicts, and to learn self-advocacy skills. Putting toys on the steps or at the bottom of the pool lets a child discover them on their own. A baby pool, beach entry, or shallow ledge are great for these types of undirected play activities. Doing "alligator-walks" on a shallow ledge helps your child understand their own natural buoyancy by allowing their legs to float up behind them while keeping their hands on the bottom of the pool.
Child-driven play allows them to practice decision-making skills, move at their own pace, discover their own areas of interest, and ultimately engage fully in their passions. Ideally, much of play involves adults. But when adults control play, children acquiesce to adult rules and concerns and lose some of the benefits, particularly in developing creativity, leadership, and group skills.
For example, it is more beneficial to let a baby figure out how to crawl or walk across a mat to get a toy instead of handing the toy to them. Another example could be children ultimately jumping into the water on their own and deciding, again on their own, to return to the step, wall or float on their back.
Play builds active, healthy bodies. In fact, it has been suggested that encouraging unstructured play increases physical activity levels in children. Perhaps most importantly, play is a simple joy and cherished part of childhood. For example, watch the joy in their eyes and smiles on their faces when children participate in unstructured play.
How can we design the fusion of fun and play in the pool for a child's maximum learning potential? You see us do it every lesson! Look closely! You'll see Humpty Dumpty with the younger ones. This is a great way to practice breath control, buoyancy, and safety! Try this one at home. Make sure you allow them to fully submerge and then practice turning back to the wall and climbing out.
In conclusion, picturing play as an emergent self-feeding process, in which causes and effects are linked, shows how anticipation leads to surprise that gives rise to pleasure and enhances understanding, which in turn builds strength (of mind, body, or character), which contributes to the poise that enables our anticipation.
Adapted by Tracy Laman, Aquatics Director of Houston Swim Club, from Debbie Sayers of DolFUN SWIM Academy, Infant Toddler Committee Member
---