We teach lifesaving skills and so much more…
Jun 3, 2019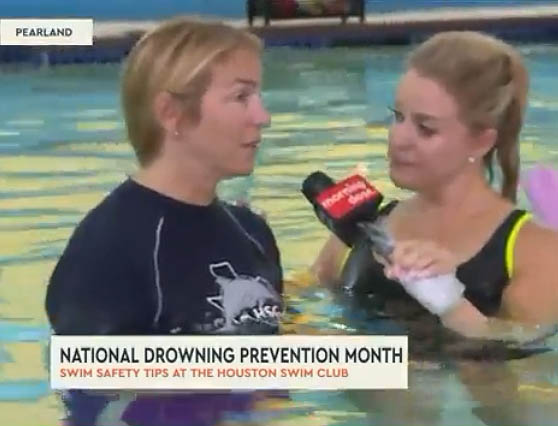 ---
Topic: Houston Swim Club
I recently had the awesome opportunity to be in the water for 2 ½ hours, bright and early, with a news reporter from the CW39 morning show, Maggie Flecknoe. We spent time talking about water safety tips and the benefits of swim lessons for children. During our time together, we used a handful of children, ranging in age from 4-13, for demonstrations. The youngest two, Ibette and Vivian, taught ME something about what we do at HSC.
That's right…after having been a part of Houston Swim Club for over 34 years, two four-year-old girls showed me that what we teach is so much more than just swim lessons! Let me explain…
These precious little girls were pulled out of bed at 5am to meet me at the Pearland location. In they walked, sleepy-eyed and confused. Mom and Dad sat in the observation room, while my husband, Dan, walked them on to the pool deck to meet me in the water. And I mean LITERALLY meet me. They had never seen me before, never met the news reporter before, and never seen the camera man with the bright lights and big camera. I reached my arms up and they stepped right into the pool to this strange lady that wasn't their swim teacher.
For demonstration purposes, I dropped each girl in the water, one at a time, and watched each pop up to the surface and roll over to float on her back. Each of them just floated until I picked her up or reached up and grabbed the side of the pool. Neither girl fussed, whined, or complained as we did this several times. They just smiled and floated!
I knew that Ibette and Vivian could float...their teacher had told us that part! What I didn't realize until after this news segment was that when we are teaching these precious children to float and to swim, we are creating a sense of comfort that is invaluable. These girls didn't know me AT ALL, yet they were so comfortable in the water that they performed EXACTLY WHAT THEY'D BEEN TAUGHT for a perfect stranger!
Later that day, I was interviewing a young lady who was interested in becoming an HSC Instructor. She asked me the difference between HSC and ISR. While explaining the many differences, I thought about Ibette and Vivian and how they had clearly learned the skills to roll over and float. I thought about how they seemed so comfortable in the water that it didn't matter that they didn't know me. I was so excited to think about how HSC had taught these girls how to be independent in the water and have no fears.
There are learn-to-swim programs out there that teach children the skills to save themselves, but they teach them in such a traumatic way that makes it difficult to trust anyone in the water. I can't imagine that Ibette and Vivian would have performed for me the way they did if they had been scared and traumatized during their lessons.
It made me so proud to know that HSC had trained them so well that they didn't need to be with someone they knew and trusted. They knew what to do and they did it. We teach lifesaving skills and so much more!
View the full CW39 broadcast here.
Ready to learn lifesaving swimming skills and so much more? Find a class to get started!
Written by Tammy Schoen, Site Director of Houston Swim Club Sugar Land
---