5 Water Safety Tips Every Parent Should Know!
May 20, 2019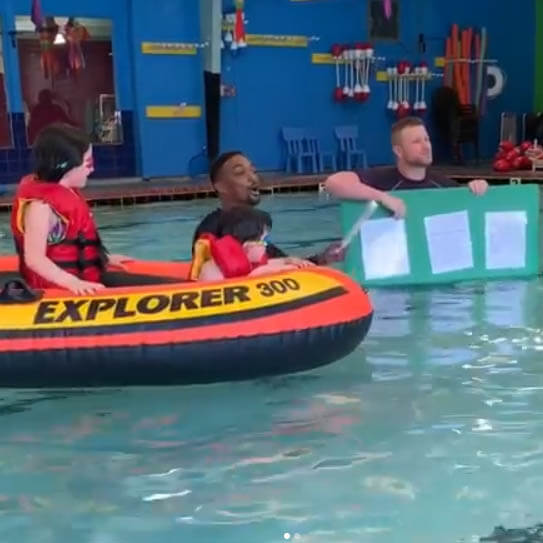 ---
Topic: Water Safety
Summer is here! That means the pools are open! Backyard pools are nice and warm! Pool party invitations are in the mail! How can you keep your child safer in the water? On average, more children suffer fatal injuries due to drowning than motor vehicle and bicycle accidents combined. You would never put your child in a car without a car seat or let them ride a bicycle without a helmet. Yet many parents take their children to the pool without following the proper safety steps.
What are some things you can do to help keep your child safer in and around the water? Here are my top 5!
1.Sign up for swimming lessons!
According to the National Institute of Health, formal swimming lessons reduces the risk of drowning by 88%.
That statistic enough should make you sign up for swim lessons today! But be careful! All swimming lessons are not the same. Make sure you do your homework before beginning a lesson program. Make sure that the swim lessons are teaching the whole child. You do not want a program that is too easy or one that is too harsh. The former will not teach your children how to save themselves in case of an emergency. The latter can have long term effects on your child's future love of the water.
No one can drown-proof your child. Be wary of anyone that says they can. We have been teaching swim lessons in the Houston area since 1964. Hundreds of thousands of children have learned to swim at Houston Swim Club. We make sure all children receive self-rescue skills in a way that also helps them learn to love the water for life!
After your child learns to swim, you still MUST watch them every minute you are near the water.
2. Know where your child is at all times.
This is a good rule of thumb wherever you are with your children. It is even more important when there is water nearby. How many times have you said "She was just right here!"? Bode Miller's daughter suffered a fatal drowning when she got away from his wife who was visiting with a neighbor and the kids were playing. "It happened in the blink of an eye!"
Judah Brown drowned after getting down from the table after he finished his snacks. "I sat him down again and began watching the pool and talking to my friend. Judah somehow slipped away from of his chair without anyone seeing and got back into the pool, without his puddle jumper." (More on this later)
When you are swimming, make sure you are always within arm's reach. This is true even if they are "just in the hot tub". Many pools today have a beach entry or a baby pool that is shallow. You still need to be no more than an arm's length away. Children can drown in as little as 2 inches of water.
3. Make your backyard pool safer!
What can you do to make your pool safer? Surround your pool or hot tub on four sides with a fence at least 4 feet high and has a self-latching gate. Don't leave toys in the pool area. Toys, floats, and noodles are too tempting for a small child! Put them away every time in a locking storage container.
One of the best things you can do when you are having swim time in your backyard is to have a "Water Watcher!" This is an adult who is responsible for NOTHING other than watching the pool. This person can rotate every 15 minutes. The problem with a pool party is that Everybody thinks that Somebody is watching and it turns out Nobody is watching! You can make your own Water Watcher tag out of macaroni or you can download the one below. The "Water Watcher" wears the tag when they are lifeguarding. This tells the other adults and the children who is going to be watching the pool and not to distract them.
4. Never rely on water wings, floaties, inner tubes or noodles. Period.
"Can my child wear floaties?" We get this question a lot!
No. Puddle jumpers and floaties give kids and parents a false sense of security. Parents feel that as long as their child has on their puddle jumper they are safe in the water. Children don't understand that it is the puddle jumper that keeps them floating, and not their own ability. The puddle jumper makes them brave and unafraid to walk into the water without it on. This is how Judah Brown drowned.
Parents think that if a child falls off their noodle or their floaties fall off, they will yell for help! Drowning is very often completely silent. It does not look like it does on TV. There are no splashes, no noises to indicate that it is happening. It happens almost entirely underwater.
The drowning process can be started in as little as 20 seconds. How quickly that process is stopped is what determines the complications from drowning. The statistics we have are only for fatal drownings. Based on emergency room data, for every fatal drowning there are at least 5 more non-fatal drownings that occur.
5. Have the appropriate safety gear in case of an emergency.
What do you need to have by the pool in case there is an emergency? Make sure you have a phone near the pool that is for emergency use only. Make sure you have something near the pool that can be extended or thrown to someone in distress in the water. Lastly, learn CPR!
Following all of these tips can help you have a safer summer in and around the water! Remember, just because you have made your pool safer doesn't mean everyone else has. You can do everything right for your backyard pool and then take your children to a neighbor's house that hasn't taken the same safety precautions. Make sure you share your new found knowledge with everyone you know!
We are enrolling children for swim lessons now! Find a class today.
Stay in the loop and don't miss the fun...Follow us on Facebook or Instagram now!
www.houstonswimclub.com
www.stopdrowningnow.org
Written by Tracy Laman, Aquatics Director of Houston Swim Club
---