8307 Augustine Dr
Mar 10, 2019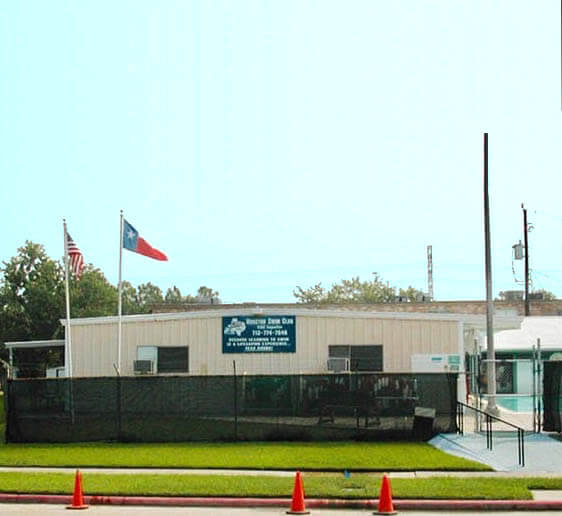 ---
The neighborhood is quiet. The morning air is cool.
Lollipop sticks and wrappers scattered along the sidewalk. Signs of happy students who were here the day before.
I walk up the ramp and wonder how many have walked through this gate since our lesson program began over 50 years ago.
The number is too many to count.
Moms with newborns in strollers and toddlers lagging behind. Dads holding the hands of their excited preschoolers. Grandparents who used to come with their own children, and now bring their grandchildren - third generation HSC swimmers. Nannies and caregivers who bring kids they love and care for as their own. It takes a village.
Kindergarteners who are nervous to take their first swim lesson. Third graders who love to swim and can't wait to get in the pool. Summer swim team kiddos who have moved on to the "big pool" now. Some even aspire to be in the Olympics one day. Adults who have finally mustered the courage to learn to swim, but are still petrified on the inside.
Lifeguards who are starting their first day at their first job. Office staff who are eager to meet the new parents they registered and reassured yesterday over the phone. Teachers who love that they can come to work in flip flops every day, but are even more grateful for the meaningful work they are able to do with children every day. Employees young and old who have called this place their home away from home for one, five, ten, even twenty plus years.
Brothers. Sisters. Cousins. Aunts. Uncles. Neighbors. Delivery men. Mailmen.
Familiar faces. New faces. Friends. Family.
The number is too many to count.
I open the gate and dump the handful of lollipop sticks and wrappers into the trash can and quickly scan my surroundings.
The playground is empty and quiet, but will soon be filled with the energy and laughter of happy children. Brightly colored benches set alongside it in a neatly patterned row. A pair of purple goggles and a water bottle left behind on the chip table.
The water in the outdoor pool is still. A clear shade of blue. A red chip sits on the bottom. Likely thrown in by a child like a penny into a wishing well.
I am not the first to enter and quickly take notice of those who have come before me to prepare for a new day. Floors have been swept and mopped, windows wiped, trash cans emptied, bathrooms cleaned, supplies re-stocked, pool chemicals checked.
The observation rooms are set up. I reminisce of the days when there were no observation rooms. When parents huddled together and watched lessons from one small 5x12 foot window at the far end of the pool. Years later, deck space was taken over to build a viewing room with bleachers. Changing stalls were later added. And, years after that, a second room was added to accommodate the growing number of families coming to our swim school.
The number is too many to count.
The toy box and children's books are straightened. The coffee bar is prepped and ready to provide an extra dose of caffeine to those who are in need. Two rows of chairs are set up for those who will come to watch the show.
A chair for the momma who sits anxiously on the edge and holds her breath as she watches, but then sighs, smiles and cheers as she watches her child float independently for the first time. She's recording the whole thing and will be posting on FB and IG for all to see. She is so, so proud.
A chair for the momma who sits quietly for thirty minutes completely unfocused on her child in the pool. Not because she doesn't care, but because it's been a rough morning already and she really needs this half hour break. After all, she knows her child is in good hands.
I walk through the glass door at the end of the walkway. The hallway is warm. The smell of chlorine is absent and is replaced with the fresh smell of cleaner.
I take notice of the heart-shaped tile on the floor and it makes me smile. I push open the heavy front office door. There is a lot of hard work that goes on between these walls. Many think the magic only happens in the pool, but it happens in here, too. The room is bright. The carpet is clean. Handouts and flyers positioned neatly on the front counter. Teacher pictures carefully placed on the bulletin board. Their smiles welcome students before they've even had a chance to meet.
Computers are turned on and the monitors come to life ready for another day's work. Voicemail is checked. T-shirts are folded. Swim diapers are stocked. The phone rings. "Good morning, Houston Swim Club!"
Check-in books and a rainbow-colored assortment of poker chips are stacked and ready for the day. Poker chips at a swim school? Who knew?! Each color used to identify a specific teacher and help to provide a sense of order amongst the chaos. Our chaos is organized.
Employees begin to arrive for the day. Friendly exchanges of 'hellos' and 'good mornings' follow. Coffee is brewed. Breakfast is eaten. Lunches put in the fridge until noon. Towels are folded. Bathing suits are put on.
Teacher boxes are checked for attendance sheets that were carefully prepared by our office staff the night before. Twenty sheet protectors are used in an attempt to keep the papers dry while they're used poolside. Paper and water sure don't go together, but we've found a way to make it work.
Student notes are shared. Reminders are given. Pep talks are had. Stories from yesterday are told. Laughter fills the room. It's almost 9:00…
Teammates slowly make their way to the pool deck. The heavy dark blue covers lay on top of the pool water like blankets used to keep the warm water even warmer. The air heater is turned on and quickly removes the chill from the air.
The pool covers are pulled off. Slowly. Carefully. The two who have assumed the job are in sync with one another as they crank the handles. The reel gets heavier, and it gets harder as they go, but when they're finished, a classroom is revealed: a thirty by sixty-foot rectangular hole in the ground filled with eighty thousand gallons of water. Our indoor pool. Where HSC as we know it first began. Where more hard work takes place. Where more magic happens. It's Showtime at HSC.
The classroom prep continues. Teacher baskets with brightly colored flags are placed in their designated spots around the pool deck. Toys, barbells, kickboards, and rings are distributed evenly among them.
The tower is gently pushed into the water. The giant structure floats effortlessly to its place on the pool bottom. It is a colorful, waterproof jungle gym of sorts. A beacon of fun for children of all ages. Climbing the brightly colored steps to the top is easy for some, and more intimidating for others. Those who are reluctant will listen to their teachers explain, encourage, cheer and build confidence until they're comfortable taking the plunge. We do Whatever it Takes.
The lollipop stand is stationed near the door on the yellow wall. A lifeguard fills each empty hole with a colorful Dum Dum, making sure to add a variety of flavors. Everyone has their favorite. For some students, the lollipop is more exciting than the swim lesson itself. And that's ok. A small reward for a job well done. Swim lessons at HSC just wouldn't be the same without suckers.
Our friends begin to arrive. Sleepy students. Sleepy parents. Nervous students. Nervous parents. Excited students. Excited parents. They congregate on the small patch of grass outside the big garage door. We enthusiastically welcome all of our swimmers, and welcome them by name. "Good morning, Molly! Hi, William! How are you?! Are you ready to swim?!" Here, Everyone's Family.
Pajamas, cover ups and crocs are pulled off. Goggles dug from the bottom of the swim bag. Swimmers wait anxiously behind the rope on the "red carpet" for permission to enter. Safety is first. Always. Lifeguards approach, carefully lift the rope, and gently escort swimmers to their teachers.
Teachers are ready and waiting at their baskets. Students drop the rainbow-colored poker chips into animal shaped buckets, like tickets for entry to a show. Another friendly exchange of 'hellos' and 'good mornings' follows. Smiles, hugs, and high fives are given. Open minds and open hearts are ready to tackle whatever the day may bring. We love your kids. We teach them lifesaving skills and so much more. At HSC, we believe Attitude is Everything.
You see, creating memories for your family is our family business. And the roots of our family business run deep at 8307 Augustine Dr. This little neighborhood pool in Sharpstown is where all the magic began over 50 years ago. We sure have come a long way, but we couldn't have done it without the love and support of so many wonderful families.
The number is too many to count.
Written by: Stephanie Burns, Site Director at Houston Swim Club – Sharpstown
---