Don't Wait For Summer...The Time Is Now!
Feb 24, 2019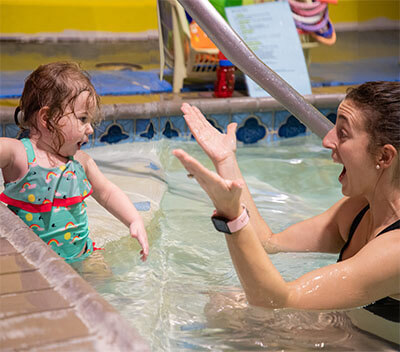 ---
While summer is synonymous with swimming, especially in Houston, there are good reasons NOT to wait until it's time for sunscreen to put your child in lessons! The hotter months of the year are definitely the most popular ones for hitting the pool or going to the beach, but it's best to start swimming lessons long before that time of year comes around. In fact, NOW is the best time to get your little one enrolled in baby swim lessons or toddler classes!
One of the best reasons to start now is to prepare yourself and your kiddos for any and all spring and summer plans you may have. Are you going to the beach? Do you have a family reunion at a lake house? Are you attending a Memorial Day or Summer Kick-Off Party?
If you start swim school or other water-based extracurricular activities for your child at the same time their exposure to water is increased, they'll already be behind.
Why not start now and give your little one a few months to get acclimated to swimming or just get back in the groove if they've been out of lessons for a while?! That way, when they're playing at the beach, near a pool, or any large bodies of water, they'll already have skills under their belts and water safety habits will be second nature.
Getting young children comfortable in the water with a professional instructor before taking them to a pool or beach with friends and family makes you look good, as a parent, too! ;) Just wait till other parents are commenting about how good YOUR kiddos are in the water! And, let's be honest...who couldn't use more kudos from other parents?!
IT'S SOOOOO HELPFUL TO KEEP IT CONSISTENT YEAR ROUND!
Houston Swim Club recommends keeping children in swimming lessons year-round and through all seasons (which we can do, thanks to our indoor, heated pools). One of the main reasons we believe in year-round lessons is because of how muscle memory in children works.
If you put kids in swim class for a few months, just to take them out in winter, and then put them back in again, they can lose a lot in terms of muscle memory. More importantly, they're also likely to lose some level of comfort in the water. So when you do put them back into swimming lessons,it's going to take them a bit of time to get back up to speed and they might even lose some of the progress they previously had.
If you plan to have your kids around water at any point in the spring or summer, now is the time to get them in the pool for lessons. Just contact us to learn more! And, as always...Remember, swim lessons ARE NOT A SUBSTITUTE for adult supervision!
Written by Tammy Schoen (with excerpts from Bob Hubbard).
---