Why Do Moms Do It?! ...Year Round Swim Lessons
Oct 8, 2018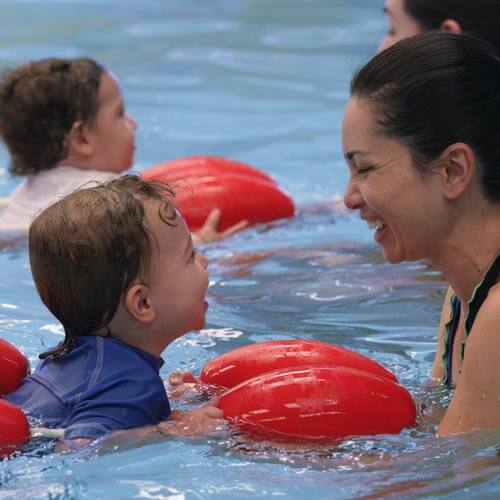 ---
Topic: Swim Lessons
The lazy days of summer are 'o-fish-ally' over! We are almost two months into the school year and are finally getting used to the sound of 6am alarm clocks. We leap into action to get everyone dressed, fed, and out the door on time. The task is much easier said than done! Right, moms?!
"Mom, I can't find my shoe!"
"Mom, I don't like this cereal!"
"Mom, he won't leave me alone!"
Man, those sound familiar! It's now almost 7:30, but thanks to some planning, a little organization, and LOTS of patience, you're able to get everyone out the door on time. You mentally check things off of your to-do list as you drive through school zones and tune the backseat bickering out.
Homework folder? Check.
Lunch packed? Check.
Class photo order form completed? Check.
You pull into the carpool line with 10 minutes to spare. Whew! But…there's no rest for the weary! That 10 minutes you just gained is a blessing, and means you'll most definitely make it to your 2-year-old son's Tuesday 9:00 swim lesson on time. Sometimes it feels like such a struggle though! You find yourself thinking…
Ugh! Why are we STILL doing this??
I mean, summer is over!
We don't have a pool at home – he only swims at his grandma's house.
He's already comfortable in the water.
Maybe we should try gymnastics; or what about a music class?
Our friends are taking a break for the fall. Maybe we just need to do the same.
Things are so busy…
BUT, each 30-minute lesson you come to reminds you exactly why you DO continue to do it!
There are many reasons, but the main one is that he absolutely loves it! The water, his teacher, the attention, the toys, the songs, the lifeguard, the time with mom, the swimming, the slide, the high fives, the hugs…he loves ALL. OF. IT! And, the truth of the matter is…so do you!
While everyone else is busy getting through their school day, he's enjoying a small group lesson in a quiet pool. He's learning important LIFESAVING skills like back floating independently and turning over to grab the wall - both of which are helping him to become safeR when he's in and around the water. He's having fun in a positive, nurturing environment while he's learning lifesaving skills. What more could a mom of an energetic 2-year-old ask for?!
So, as you help him climb out of the pool and wrap him in a towel, you think to yourself…
No, I don't think we'll try gymnastics yet.
And I don't think we'll take a break for the fall.
We are learning skills that just might save his life one day.
We are right where we need to be!
---