Apr 13, 2017
Sharpstown Easter Fun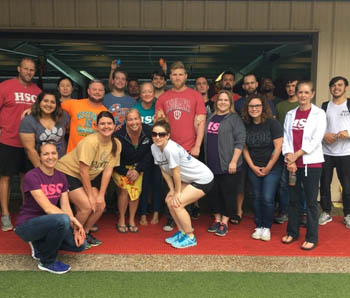 HSC Sharpstown took a break from teaching awesome swimming lessons for some pre-holiday Easter celebrations!
The team at our Houston Swim Club Sharpstown location kicked off the Easter holiday season today with some team building fun!
The staff was divided up into teams and given a list of clues to find their Easter eggs. Each team then had to hold a hula hoop (used in swim lessons to improve dives), and race around the Houston Swim Club Sharpstown facility to find their eggs before the other teams.
Sometimes it was a struggle!
The instructors, lifeguards, and office staff had a lot of fun! Of course in the end there can be only one winner, and so team yellow took the gold.
---
You may also like...
Tracy Laman offered expert advice to parents on ABC13
Jul 12, 2017
Laman said with lessons, a baby can hold his breath from six to eight seconds. However, kids who have had no training should not be repeatedly submerged..'" Read More
Gift Certificates Available
Dec 20, 2017
Looking for a last minute Christmas present? Read More
"We wanted him to learn survival skills"
Aug 2, 2016
A mom rushed to save her son who fell in the pool and something amazing happened...he saved himself! Read More